Dingle peninsula, Co Kerry, Ireland
Stradbally Lodge, Co Kerry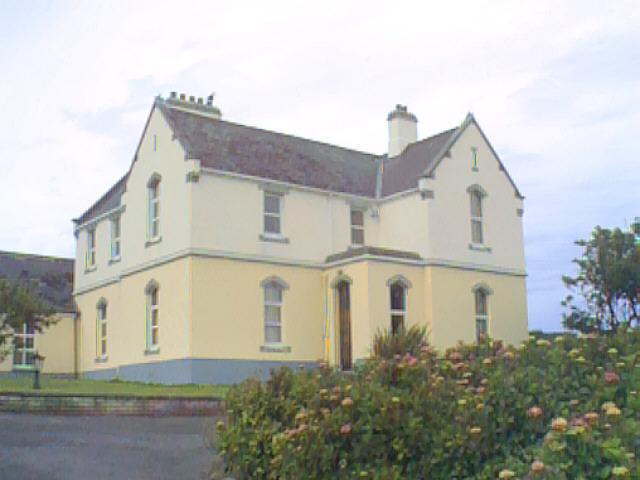 It is reported that Stradbally Lodge stood on the edge of the Strand or beach, but that it either fell into ruins or was burnt down. Today there is a building, pictured above, which is known as the Presbytery or Stradbally Lodge. It is used by an Austrian family for their holidays. Locals report that the Hickson landowners charged high rents (£6.50 per year) and that there was not much left after paying this to buy food. These landowners were very unpopular and it is not surprising that their buildings were burnt down.
Peter Jank writes: There is a monument in Stradbally cemetery erected by Robert Conway Hickson in memory of his sister Sarah and her husband Richard Norris. Sarah Norris née Hickson died in 1854 at Stradbally Lodge. In 1874 Hickson gave the house and 11 or 12 acres of land to the church. The first Parish Priest who lived in the house (from 1874 to 1885) was Fr. Irwin. I do not know if Sarah Hickson was born at Stradbally.
As far as I know Sarah lived in the "old part" of my house (the one storey part of the house to the left hand side, built 1820 or thereabouts).The two storey "main house" was build in 1906 by the church. So you took a photo of the right place. I don't know anything about a building or any ruins on the beach.
Hicksons from Stradbally
The year represents the approximate date of birth

1553 Christopher who married Miss Hussey

The Rev Christopher Hickson was ordained 20th December 1593 by Maurice O'Brien Ara, the first Protestant Bishop of Killaloe
In 1615 he was the Treasurer of Ardfert, Kerry, Rector of Disert & Vicar of Kilconley, Kerry
Two years later he was appointed Rector of Stradbally and Kilgobbin

1590 Thomas who married Frances, the second daughter of Walter Hussey

son of Rev Christopher, he is recorded as "of Gowlane in Stradbally"

1649 Robert FitzJoseph

grandson of Rev Christopher, son of Christopher (a Catholic). He was an outlawed Tory in 1710
His issue is extinct (Burke's Landed Gentry)

1650 Thomas who married Katherine Hussey

grandson of Rev Christopher, son of Christopher (a Catholic). "Of Gowlane in Stradbally"
He was killed by Cromwellians in 1650

1695 John who married Mary Rice or Susan Fitzgerald

son of Katherine Hussey & Thomas
He gave Stradbally to his second son, John

1721 John who married Ellen, daughter of Dominick Trant of Dingle by Mary, daughter of Pierse Ferriter of Ferriter's Cove

son of the above, John
inherited Stradbally ca 1740 from his father

1723 George who married Mary Gould

Third son of John, senior
inherited Gowlane ca 1740 from his father

1758 James who married Mary O'Connell

son of John Hickson & Ellen Trant
was born at Stradbally

1786 Christiana

daughter of James Hickson and Mary O'Connell
was born at Stradbally and died young

1788 Maria who married William Busteed

daughter of James Hickson and Mary O'Connell
was born at Stradbally

1790 Ellen who married Morgan Busteed

daughter of James Hickson and Mary O'Connell
was born at Stradbally

1854 Sarah Maria Hickson, wife of Richard Norris

died at Stradbally Lodge
see also Gowlane
Kilgobbin is now better known as CAMP which is very near to Sradbally.
How to get there
From Tralee (Trá Lí) take the road through Blennerville to Camp and continue along the same road (R560). Pass the turning to Castlegregory, continue into Stradbally. A minor road leads from the centre of the village to the Strand or beach where "The Presbytery" can be found on the left. It is believed that close to the end of this road stood "Stradbally Lodge".